I spent a week in the company of Philip Gould a few years back at his training centre in London, developing advanced professional skills in empathy and communication. I particularly liked his emphasis on self reflection learning and his very practical approach. He does not use
psychobabble or hyperbole
and his work is very grounded in establishing meaningful communication. Philip was committed to Life Long Learning, a long time before it came into our professional language.
Philip Gould, Philosopher and creator of the Philip Gould Training Skills with People course.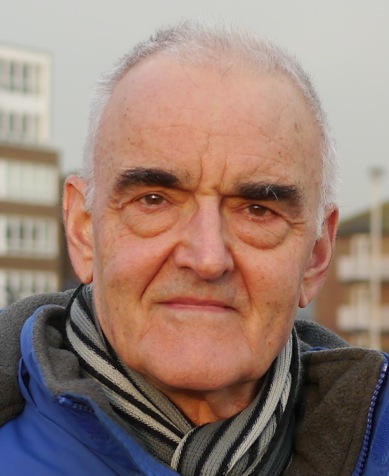 Good communication can move mountains. If you know how to attentively listen to people, give the right feedback, sovereignly deal with complaints and say no if necessary, you can simplify and enrich your life. In this interview, Philip Gould, trainer, with his wife and son, on the "Gould Training Skills with People" course provides you with 7 helpful tips and information about how to communicate in the best way possible.
1. In your newly released book "Connecting with people – Two crucial skills", you declare that listening with empathy and speaking assertively are the most important elements when it comes to interacting with people. Why these two?
It's because when we do these two things we greatly increase the amount of mutual respect, understanding, frankness and trust in a relationship. It's a simple, powerful and very practical idea, and works well with most people – but that doesn't mean it's easy.
2. In your experience, what are the most common obstacles people face when they communicate with others?
Perhaps the most common one is that we suppress, ignore or keep quiet about our own and other people's feelings, and this makes us disconnected from one another and tense.
We make wrong assumptions about what's going on in people's minds – and so we misunderstand.
We assume they know what's going on in our mind, and by not taking enough trouble to spell it out clearly we allow them to misunderstand us.
We use argument as a method of persuasion, and it gets us nowhere. By listening with empathy and speaking assertively we could persuade much more successfully without argument.
We forget the Golden Rule, "Treat others as you like to be treated", which is why we so often fail to connect with others.
3. Can you give us an example of a conversation where someone listened with empathy?
HE: How was your day?
SHE: Awful.
HE: Sorry to hear that.
SHE: My boss was in a bad mood again.
HE: You're obviously upset.
SHE: I am! I'm beginning to think I should get another job.
HE: It's pretty serious, then.
SHE: It is! It feels awful being shouted at when all you're doing is trying to help. I'm nervous and tense every time I go in to work.
HE: And now you don't see why you should put up with it any longer – because you know you're worth more than this.
SHE: Yes, that's it exactly! (thoughtful pause) I'll start making enquiries about other jobs in the morning. Thank you. My mind's made up. I feel better now. How was your day?
4. People can find it very hard not to be rude if they are frustrated. How can one improve this? For example, is there a best way to deal with complaints?
The first thing to do when you're faced with someone raising a complaint and in an emotional state is allow them to let off steam. You can say, for example, "This must be frustrating", and then wait for them to express their feelings.
It's no use saying, "Just calm down so that we can talk rationally and I can help you." They can't until they've let off steam. If you don't do this the energy in their emotion has to go somewhere and it will often be expressed as rudeness. Although it's never comfortable receiving a complaint, a brief touch of empathy usually works like magic. When someone lets off steam they are calming down because they're releasing the tension – even though it may not sound like it. So be patient. It works.
The second thing to do is reassure them that your intention is to help. Don't assume they know this. Spell it out – "I'm here to help".
5. What does it take to give good feedback?
Most of us are very sensitive to feedback and very easily made to feel attacked and disapproved of. When this happens it is natural to resist the feedback. Here's how to do it without making people feel disapproved of:
Always start with praise, by saying specifically and generously what they are doing that makes you feel good and the reason why you feel good about it (e.g. "The way you handle customers makes me feel very safe. You always seem to treat them with courtesy, care, tact and firmness, which I believe is very good for business." Allow plenty of time for this to sink in and, if they want to, spend time discussing it.
Then when they feel approved of be equally specific and frank with the criticism (e.g., "I'm worried about how you're handling our internal sales support people. I know it's part of your job to give them feedback, but the way you do it seems to put their backs up. This, I believe, is bad for business.") Then pause for this to sink in and be discussed. Most people would take this feedback very seriously and not feel attacked by it
6. Let's talk about another essential factor: assertiveness. One important aspect of assertiveness is to learn how to say no. How can people who find it hard to say no start their "training"?
I personally find it extremely hard to say no. It's because I'm afraid of how the person I'm saying no to might react. The impulse to say yes can feel so strong it's almost instinctive. Going against it calls for some soul-searching:
Do I feel totally at ease about the idea of saying yes? If not, precisely how do I feel and how strong is the feeling?
Why do I feel this way? It's probably because something that matters a lot to me will be jeopardized or compromised if I say yes. What is it that matters so much to me?
It may take a while to figure out the answer, which is why if you're in doubt it's a good idea not to reply straight away but to say you need time to think about it. Then having figured it out you can say it assertively, e.g., "I'm sorry to disappoint you, but having thought about what you are asking my answer is no. Saying yes would feel wrong for me because what matters to me is …". My own goal is to have the courage never to say yes when my gut feeling is to say no. I don't always achieve this.
7. Changing the way you communicate is a life-long learning process. How can you keep yourself motivated personally?
I can't answer for you. What keeps me motivated is the sheer pleasure I get when I experience mutual respect, understanding, trust and frankness in a relationship. Seeing other people doing it well also helps, as does reflecting on my own frequent failures. Learning opportunities come thick and fast.
One thought – it can help greatly if you have a friend from whom you can ask for frank feedback from time to time about how you come across when you're communicating.